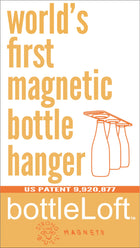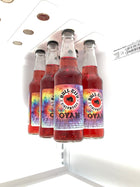 Description
BottleLoft, the magnetic bottle hanging strips that free up space and make your refrigerator cooler!
The 2-Packcontains two magnetic strips. Each strip has 3 magnetic positions, so 2 strips can hold 6 bottles.  The 2-Pack also contains an instruction sheet, isopropyl surface cleaning pads, and a Strong Like Bull logo sticker.
BottleLoft utiizes 3M VHB (very high bond) adhesive to securely attach to your refrigerator ceiling.  BottleLoft uses high grade, super strong neodymium magnetic assemblies capable of holding 3.5X the weight of a 12oz. bottle by its cap alone.  
U.S. Patent No. 9,920,877